A stable, affordable, quality home is necessary for our wellbeing and dignity.
Our homes should be places where we can be with our families, find refuge in turbulent times, and access the resources we need to be healthy. Our homes are a basic human need and should be a right for all of us, not a commodity. Public health has a crucial role to play in leveraging our knowledge, political power, data, resources and skills to help make housing a basic right for all people, and to build power with grassroots housing justice movements.
We leverage policy-focused public health research and advocacy in partnership with housing justice organizers to advance housing and health for all.
Browse our Housing Justice work
Our Vision: Housing and Health for All
Together, we are building a world that fosters our collective wellbeing, where we all have homes, communities, and neighborhoods that support our health, healing, and liberation. We hold the following as our guide:
A stable, affordable home is a basic necessity for our health, well-being, and dignity
Housing justice requires repairing and healing the harms of racial capitalism past and present–especially anti-Black racism and colonization–to build a future in which we are all free
Our homes and neighborhoods should support the collective wellbeing of all living beings and the environment and be resilient and responsive to the health impacts of climate change
People should have the power to decide the future of their homes and neighborhoods
Government must serve housing and health for all
Public health should uphold housing as a fundamental health need and human right
Our Strategies
Change the frame by conducting campaign-based research and supporting the public health field to communicate powerfully about the necessity of stable, affordable, dignified housing for our collective wellbeing
Build a new base of support by convening public health partners and allies to bring our power as a sector to uplift housing justice campaigns
Bridge public health agencies and organizing by connecting public health agencies and housing justice organizers, to build strong inside-outside partnerships with the power to win and enact structural change
Recent offerings from our work: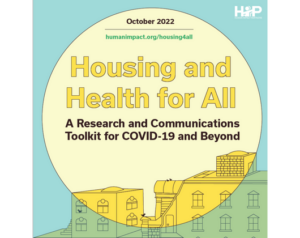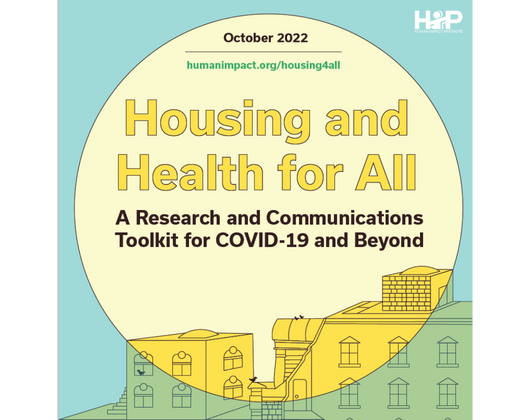 Housing and Health for All: A Research and Communications Toolkit for COVID-19 and Beyond
Developed with the expertise of housing organizers, this toolkit distills public health research into talking points and data access guidance that housing and health advocates can easily plug into their campaigns or communications.
---
Want to know more about our offerings?
Contact Housing Justice Program Director Will Dominie at will@humanimpact.org