We're fighting for a society where all people are healthy and free.
Where we wield our collective resources to help, never to punish or hurt. Where all people get the care and assistance they need to repair any harm they have caused, heal historical or ongoing pain, and grow in community together. Where there is no need for prisons, jails, detention centers, or policing. Where all people can thrive.
Through our research and advocacy with community partners, we're taking action to advance racial justice, public safety, and health equity.
Browse all of our Health Not Punishment work
Recent offerings from our work
Health and Cultural Wealth: Student Perspectives on Police-Free Schools in Fresno, California

We partnered with Fresno Barrios Unidos to create a research brief informed by student experiences about the health harms of school policing and the public health benefits of investing in non-punitive supports for students.
A Framework for Advancing Health Instead of Punishment During COVID-19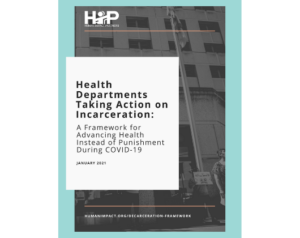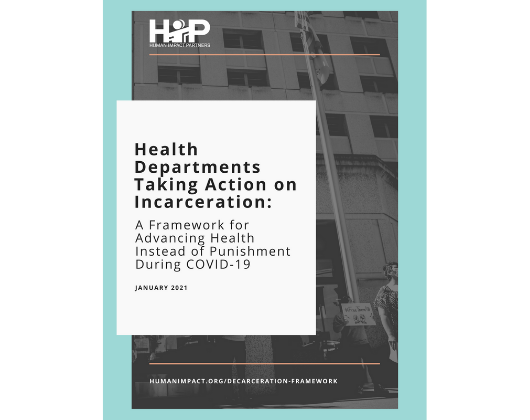 The COVID-19 pandemic — and the large number of cases and deaths in jails, prisons, and detention centers — has laid bare the urgent need for decarceration as a public health strategy. This resource includes 8 recommendations and specific actions health departments can take to address the harms of incarceration.
Webinar: Addressing State Violence as a Public Health Issue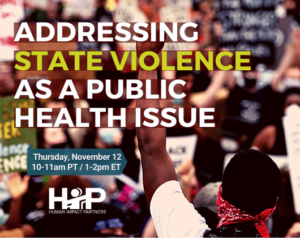 On November 12, 2020,  we hosted a conversation with advocates, movement leaders, and public health practitioners on how all forms of state violence — including policing, incarceration, and immigration enforcement — disproportionately harm the health of BIPOC communities. This video includes a full recording of the event. 
Our Strategies
Make it tangible

by winning policy and budget campaigns that advance community health and freedom

Make it scalable

by building the base of public health workers advocating for the liberation of all people

Make it sustainable

by shifting culture and activating narratives that nurture health equity
Want to know more about our work?
Contact Program Director, Amber Akemi Piatt at amber@humanimpact.org