Together, we harnessed the power of the vote for health equity. Now, the work continues.
We engaged the 2020 elections as a critical component of a broader strategy to build community power, dismantle systemic racism, and transform the terrain our collective health depends on. We're celebrating the power of Black, Indigenous, Latinx, People of Color, and immigrant organizers and communities who mobilized to bring voters out in historic numbers, and to Defend The Vote for Public Health.
And we know the movement doesn't begin or end at the ballot box. As we face the transition period, we're continuing to stay vigilant to defend the results, and to hold all elected officials accountable to enacting policies and practices that will truly support health equity and collective healing. We know the path forward must continue to be led and informed by the demands and priorities set by those same communities and grassroots power-builders who are most impacted by health inequities and systemic racism.
Our continued post-election advocacy work builds on, and builds up our  strategies to enact systemic transformation to build a world where everyone has what they need to thrive. Read a blog post that gives an overview of our strategies and framing to advance health equity in the 2020 elections and beyond,  check out a recent message from our Co-Directors Lili Farhang and Solange Gould in response to the results, and view related resources and materials below.
Read our post-election message
---
Get Organized to Hold Elected Officials Accountable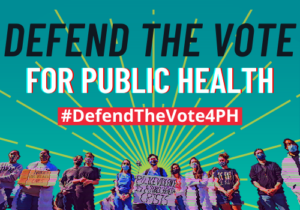 Join the Public Health Awakened Network
Connect with our national network of over 2,000 public health workers organizing for health, equity, and justice. Public Health Awakened mobilized to Defend the Vote for Public Health, with members across the country who volunteered as poll workers and election monitors, advocated for voting access, and share information about measures to advance health equity. Join the network to plug in to continued mobilizing to defend the results and hold the new administration accountable to health equity.
Public Health Guide: Organizing Safely During COVID-19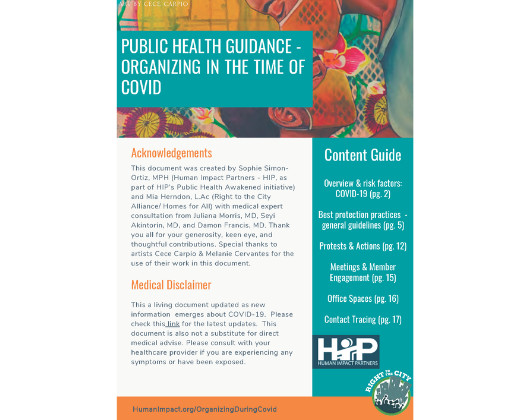 Public Health Guidance: Organizing in the Time of COVID-19
This guide offers general best practices and safety precautions to take for ongoing protests and in-person organizing work. While evidence shows that recent protests have not contributed to increased transmission of COVID-19,  these recommendations provide public health guidance for anyone attending in-person gatherings, including organizing meetings, protests, or activities related to defending the results. We developed this tool in collaboration with Right to the City Alliance to support continued anti-eviction and housing justice work.
Recommendations for Health Departments

5 Ways Health Departments Can Help Ensure Healthy Voting
A healthy democracy is critical for healthy communities, and health departments have a critical role to play to ensure that all communities have a say in the conditions and decisions that impact their lives. In October 2020, we shared 5 recommendations for health departments to help support safe and healthy voting. Many of these recommendations remain relevant to continued efforts to defend the results in the post-election period. 
How to Beat an Election-Related Power Grab
On Monday, November 2, Human Impact Partners hosted a virtual watch party and discussion of "How to Beat an Election-related Power Grab" — a training developed by ChooseDemocracy.us.
While we are confident in the election results, this training offers helpful strategies learned from movement history that strengthen our approach and preparation in the post-election period . You can view slides of the training we previewed together and watch a full recording of a similar training from George Lakey here.
---
To learn more about our post-election advocacy work and ways to get involved, contact Senior Public Health Organizer Sari Bilick, sari@humanimpact.org.
For our most up-to-date election and transition-related actions and resources, join the  Public Health Awakened network.