Power-building Partnerships for Health cultivates powerful collaborations between local health departments and community power-building organizations to advance health equity.
Social movements and public health belong together! Power-building Partnerships for Health (PPH) provides support and resources to build community power and take strategic actions. PPH cohorts are made up of partnership pairs of local health departments and community power-building organizations (CPBOs), also known as grassroots organizing groups, movement-building organizations, community organizing or base-building groups.
The goals of PPH are to: 
Deepen relationships, trust and support structures for strong collaborations between community power-building organizations and health departments
Develop a shared understanding of health equity, community power-building, and inside/outside strategies
Support health departments to leverage their power and take action to contribute to community power-building priorities
Support community power-building organizations to use their power to advance stronger public health policies and practices
Enhance our collective ability to advance inside/outside strategies for health equity and racial justice
Join the 2023 PPH Cohort – Seeking Applications!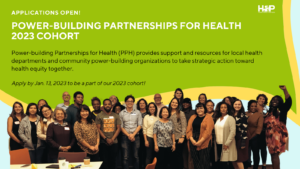 With funding from the Kresge Foundation, HIP is building from the success of two prior cohorts to offer this new opportunity for existing partnerships to deepen relationships, trust and support structures for strong collaborations. Participants in the Power-building Partnerships for Health 2023 cohort will receive:
$30,000 in flexible funding for community power-building

: funds can be used to support community organizers' time and participation and support power-building activities

Peer learning:

the cohort will have eight virtual sessions and one or two in-person gatherings for shared learning, relationship-centered networking, and leadership development

Site-specific coaching and technical assistance:

monthly site meetings and up to 20 hours of direct TA support to advance local health equity and power-building work

Dedicated time for relationship-building:

we "move at the speed of trust" and emphasize building trust within organizational teams and partnerships

Support with navigating power dynamics: PPH provides a confidential and supportive community to help navigate the risky, political, or complex power dynamics inherent in this work
For more information on how to apply, see the Call for Applications, the 2023 PPH Application Form, and the Application Scoring Rubric.  An optional info session for interested applicants was held on December 1st, 2022 – a recording of the session is available here (use passcode &ir2D4A$) and slides can be found here. Additional questions can be sent to PPH@humanimpact.org.
The deadline for applications has been extended to Friday, January 13 at 5pm PST.
---
Webinar Series: Power-building for Health Departments
In June and July 2022, HIP hosted  a 2-part webinar workshop series on power-building, geared toward health department leaders, staff, and partners. The sessions dive into power imbalances as a root cause of health inequities, how to build deep alliances with community power-building organizations (CPBOs) to shift power, and ways health departments can leverage and redistribute their power to advance equity.
Part 1: Power 101
Part 2: Tools for Analyzing & Redistributing Power
HIP resources on power-building to advance health equity
For additional information about why power-building is important for advancing health equity, please check out these HIP resources:
Additional resources on power-building
---
Contact us to learn more about PPH
Are you a local health department interested in trainings or technical assistance on community power-building or how to collaborate with community organizers? A community power-building organization interested in connecting or collaborating with a local health department?
Contact us at PPH@humanimpact.org